Large volumes of building materials and grain are transported by sea along the Norwegian coast. The ships used for this purpose are relatively small and old bulk ships. The ships' engines are often old and inefficient, running on fossil fuels.
Pilot owners
Goal of pilot project
In this pilot, HeidelbergCement and Felleskjøpet Agri explore the feasibility of utilising the same zero-emission bulk ships to meet their logistic needs: Is it possible to combine Heidelberg's transport of building materials from the west coast to the east coast with Felleskjøpet's transport of grain in the opposite direction?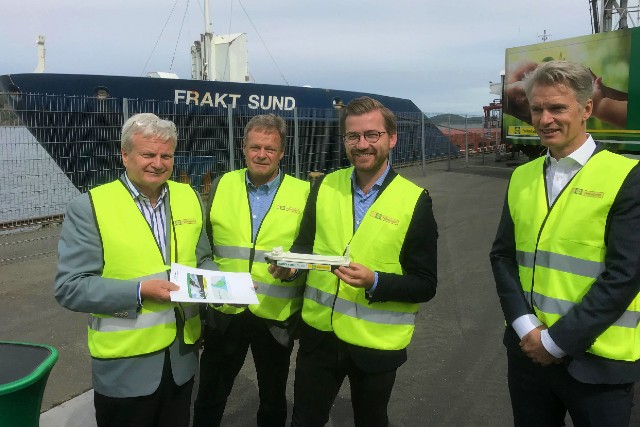 Status
The pilot was launched in March 2019. An analysis of previous shipments revealed a considerable potential for coordination and joint utilisation of ships.
The pilot has analysed alternative zero-emission solutions that meet the distance and energy requirements, including access to fuel/energy carriers. The pilot has also prepared a requirements specification for the transport solution with zero-emission vessels; assessed suitable contract forms; and outlined the tendering process for a transport contract with a zero-emission ship.
The calculation of climate and environmental benefits, as well as cost-benefit analysis, has been carried out in collaboration with Vard's pilot: Next generation bulk carrier.
Based on the results of the pilot project, HeidelbergCement and Felleskjøpet Agris decided in May 2020 to collaborate further to develop and realize the solution. The project will be implemented with the assistance of the Green Shipping Program's Service Office. The goal is to achieve zero emission/carbon neutral sea transport. The cargo owners do not want to own ships and will prioritise solutions where other actors own and operate the ships.
In March 2021 the tender to build and operate the vessel under consideration was completed. 31 shipowners and consortia were competing.
The Norwegian shipowner Egil Ulvan Reders was chosen as owner and operator of the world's first zero- emission bulk carrier "Orca With". Felleskjøpet Agri together with HeidelbergCement have signed a contract with the shipowner to build a 88 meter long green vessel.
The new vessel shall have a hydrogen powered main engine. In addition, the vessel shall have two rotor sails that will contribute with enough power on its own to sail at 8 knots under good wind conditions.
In June 2021 Statkraft and Skagerak Energi were selected as sub suppliers for green hydrogen for the vessel. The concept that succeeded involved swapping of containers with compressed hydrogen.
The Norwegian Maritime Authority have actively participated in this project. They have together with The Norwegian Coastal Administration used "Orca With" as an example for Norway's prominent role in the green environmentally friendly transformation in the shipping industry. See the video here.
Read more