Zero-carbon fuel for vessels in deep-sea segments are critical for achieving IMO goals for GHG emission reduction. Possible alternative fuels are limited, however ammonia as fuel is an alternative. Green and blue ammonia are promising fuels for zero-emission ocean transport.
At the same time, ammonia is a toxic gas that raises new challenges concerning storage and safe operation in the value chain and onboard the vessel. It is technologically feasible, and there is comprehensive industry experience in handling and transporting ammonia at sea both as cargo and as refrigerant, covered in existing regulations.
In addition, a safety handbook and class rules are available for effective design and approval.
Engine manufactures have also started developing and testing of combustion engines with ammonia.
GSP wishes to draw on short-sea experience with alternative fuels to initiate a pilot meant for deep-sea – with all key players in the value chain involved.
Equinor is the pilot owner and will be the overseeing partner and lead the work forward. Additional partners are listed on the right-hand side.
(Ammonia is manufactured through a chemical process with hydrogen. The ammonia is defined as "green" if the hydrogen is produced with renewable energy.)
Goal of pilot project
The main goals of the pilot is to:
Investigate the technical and economical applicability of implementing ammonia-eligible engines, fuel- and bunkering systems on a large generic tank ship design.
Understand operational safety aspects and competence requirements.
De-risking key elements of the design and identifying barriers.
The ultimate goal of the pilot is an Equinor-charted tanker powered by ammonia.
Status
The pilot started in January 2022 and is in the start-up phase.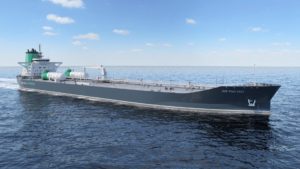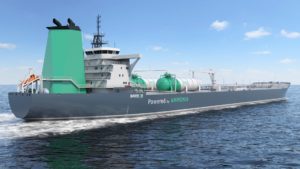 Status March 2022: The pilot has just started, and an Aframax tanker has been selected as basis for further studies. Further work will consist of six working packages that includes the current technology status, safety aspects, costs, rules and regulations, LCA and fuel costs, onboard implementation, bunkering risks and more.
Status September 2022: The pilot is working on a well-to-wake CO2 analysis of green and blue ammonia. It is equally important to focus on how green energy can be achieved for green ammonia, as the capture rate for blue hydrogen. In terms of implementation on board, the pilot believes that the first ship may be ready for operation around 2026.
Wärtsilä is a contributing partner and base their work on what they have for LPG today. For bunkering the idea is to compare with LNG operation, as well as how loading operations with ammonia are carried out today.