Cities and districts are in growth and development. In the districts, this is concretized in the need to develop the commercial- and agriculture areas. In the cities, it is the urban development such as construction of new buildings, roads and infrastructure, in addition to general maintenance. There is no bold prediction that this development will continue – in the foreseeable future.
Transport of building materials, gravel and masses between districts and cities are important. This flow of goods generates the most transport work per citizens in Norway (12 tonnes/year). Large volumes involve a lot of transport work, which give a high traffic- and environmental impact. It will be natural for Trondheim to set requirements related to the efficiency of bulk transport. In addition, it is important that the bulk transport consider the environmental impact, circular economy and that it is according to the green shift.
This pilot has highlighted the big resource management potential to achieve higher utilization of minerals/raw materials by increase the reuse of masses including residues for depot. It will also be possible to reduce mass transport in urban areas and to reduce emissions from logistics by transferring goods from roads to sea, and with high utilization of green ships and trucks throughout the value chain.
This will generate positive effects for the maritime business:
Contribute to demand for newer and greener tonnage
Contribute to fleet renewal
Facilitate shorter transport distances by truck, and thus allow for faster electrification of this transport.
The pilot highlights that it will be possible to facilitate business establishment near the sea in the districts.
Goal of pilot project
The pilot vision is to establish a CO2 neutral production and logistic chain for raw materials, building masses and agriculture land, and facilitate for a more sustainable development of the mineral industry and coastal development in the districts.
New industry in the districts – New agriculture area – Rest masses as a resource
The pilot's main goal is to develop and evaluate a concept for a CO2 neutral production and logistic chain between the Norwegian areas in Aure at Nord-Møre and Trondheim. The pilot will establish a plan for further development and realization of the solution.
Status
The work with the concept development has started and the working process is described below:
Production and deliverables of building raw materials and gravel
Collection, sorting and reuse of used masses
Exporting and delivery of residual mases to improve agricultural area
Development of a green bulk terminal with functions such as product warehouse, recycling station and logistic hub.
A customer dialog has been conducted with contractors and public developers, and a reference group with representatives has been established. Dialogue with local agricultural authorities is carried out. Cost and emission analysis of profitability and environmental impact are in progress.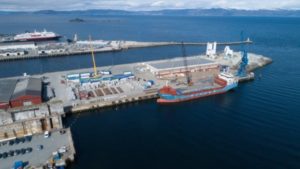 2021
During Spring 2021 the first shipment of raw materials to the green bulk terminal in Trondheim was completed, and this operation has continued with success into 2022. In addition to the participating GSP partners (listed to the right) are Forset Grus, Salfjord, Berge Shipowner and Trondheim municipality also contributing.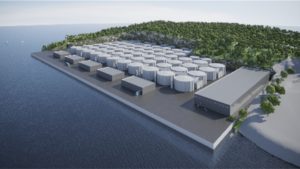 December 2021
Continued work is carried out with concept development and with analysis work of several project cases in Trondheim. In parallel experience has been gained through pilot operations with large focus on development of the concept of a multi-functional Green Bulk Terminal. Today Green Bulk Terminal version 1.0 is operational, and Green Bulk Terminal 2.0 is in progress.
April 2023 – Realization in progress
Concept study for green bulk terminal and assessment of green sea transport is ongoing. Mass transportation in the port with nearby urban development is a challenge. Sea transport of construction raw materials from three locations on the coast to a bulk terminal in the Port of Trondheim has been established. Electric tipper trucks are used between the bulk terminal and the building/construction site. This is an attractive solution for contractors, who are experiencing increased use of sustainability and climate accounting criteria from clients and clients. The reuse of excavated material is challenging in terms of documentation requirements when used to improve agricultural land.