Lerøy Havfisk AS is a part of Lerøy Seafood Group, and is one of Norway's largest trawler companies with 10 vessels with fishing rights in operation. The company has its main office in Ålesund, and offices in Stamsund and Hammerfest. The background and the motivation for this pilot study is Lerøy Seafood Groups strategical ambitions to reduce their CO2 footprint with 46% within 2030. It is also assumed that emission reduction regulations and requirements from other stakeholders will become more important and stricter in the years to come.
A traditional trawler design does not easily lend itself to integration of systems for storage and distribution of alternative fuels. The operational logistics will to a large degree dictate how the vessel's equipment and functions are arranged. The trawler deck seizes the available area on the open deck, while the factory and cooling- and freezing rooms occupy a lot of space below deck. The handling and production of excess raw materials also require space below. It will therefore be difficult to avoid a significant increase in main dimensions for an ammonia powered trawler of the type operated by Lerøy Havfisk.
Large ocean-going trawlers have relatively high fuel consumption and emissions, with challenging operational conditions and extended sailing distances. Trips of up to 5 weeks require large amounts of fuel.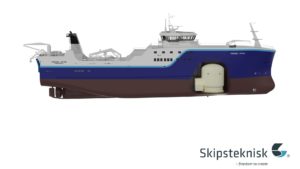 Lerøy Havfisk is the overseeing partner for this project. Additional partners are listed to the right. Other contributors are: Skipsteknikk
Goal of pilot project
Lerøy Havfisk aims to carry out a feasibility study related to implementing dual-fuel ammonia solutions for a larger sea-going trawler, including technical solutions, risk aspects and cost efficiency. The study intends to map the barriers for implementation onboard and any limiting effect on operations.
The questions this pilot aim to answer are:
To what extent can the operational pattern of the current trawler fleet be supported with ammonia as fuel?
Can the experience large trawlers have with ammonia as cooling medium in refrigeration plants be of importance for safe implementation of ammonia as fuel?
What environmental benefits can be achieved, and to what cost?
In total the pilot shall give answer to if it is technical possible to implement an ammonia fueled system for a newbuild with similar performance as the current modern trawlers in the Lerøy Havfisk fleet. The long-term goal is to prepare the largest trawlers for use of ammonia as fuel.
Status
January 2022
This pilot had a kick-off meeting at the end of January 2022.
March 2022
The pilot kick-off meeting was held on January 27th, 14 partners are involved in the project. Six work packages have been defined. It can already be seen that integrating the system on board without changing the design too much will be one of the challenges – as space is limited and the space on this type of vessel is optimized and utilized very well.
September 2022
The pilot has found solutions for establishing the necessary storage arrangement for ammonia based on the operational profile of similar vessels and has identified a tank storage concept. The current focus is to find answers to the following questions:
Whether ammonia has the ability to fulfill the operational characteristics of a fishing boat?
How to avoid operational emissions when using ammonia.
Lerøy has revised its newbuild plans. This gives the pilot study a little more time for further studies and the search for answers to the remaining questions.
May 2023
The pilot is now completed. The final report is available here. A trawler has limited space on board. The ship is basically a fishing vessel, a factory, a warehouse and a transporter – and all parts of the ship are in use. Nevertheless, the pilot study concluded that there are solutions for establishing the necessary storage arrangement for ammonia. The results of the pilot were presented at a mini-seminar on May 31th, 2023.
Lerøy's strategic ambition to reduce its CO2 emissions by 46% by 2030 remains unchanged.